*Earth Friendly Option- Now choose biodegradable containers for your body butter! Save $ and the environment!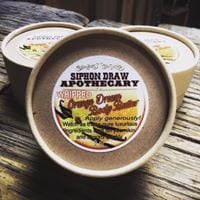 (Photo-Orange Dream Body Butter)
These paperboard body butter containers are completely biodegradable. They do absorb the oil of the body butters, so you may see the paperboard darken as it absorbs. This does not mean it is leaking and does not mean that anything is wrong with the product or container. They are very sturdy and can withstand daily use, they just get saturated with the over time.
You can still choose the beautiful black glass containers while supplies last!