At Siphon Draw Apothecary you can find Herbal Immune Support products that are easy to use and taste great!
Immune support can come in many forms, but one of the best ways to strengthen your immunity naturally is with the healing and nourishing power of Herbs!!! There are plenty of scientific studies that shows how certain medicinal plants can have powerful effects on our immune systems!
Even a simple cup of tea each day can bring about enormous changes in the way the immune system functions. Here are a few of our favorites that have specific immune system benefits!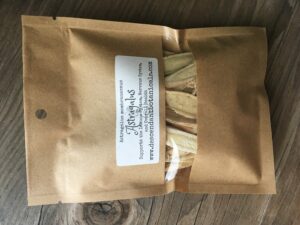 Astragalus- Astragalus is often used for long term support of the immune system. Rich in polysaccharides (similar to mushrooms) it is best prepared by a long simmer. The taste is quite mild and so can be paired easily with other herbal teas or is a wonderful addition to a long simmered broth. Simply add 3-6 root pieces to your broth, to water, or along with other good simmering herbs such as cinnamon or licorice root and let simmer for minimum 20 minutes. (The longer the better, 1-2 hours being ideal)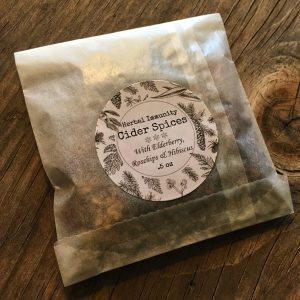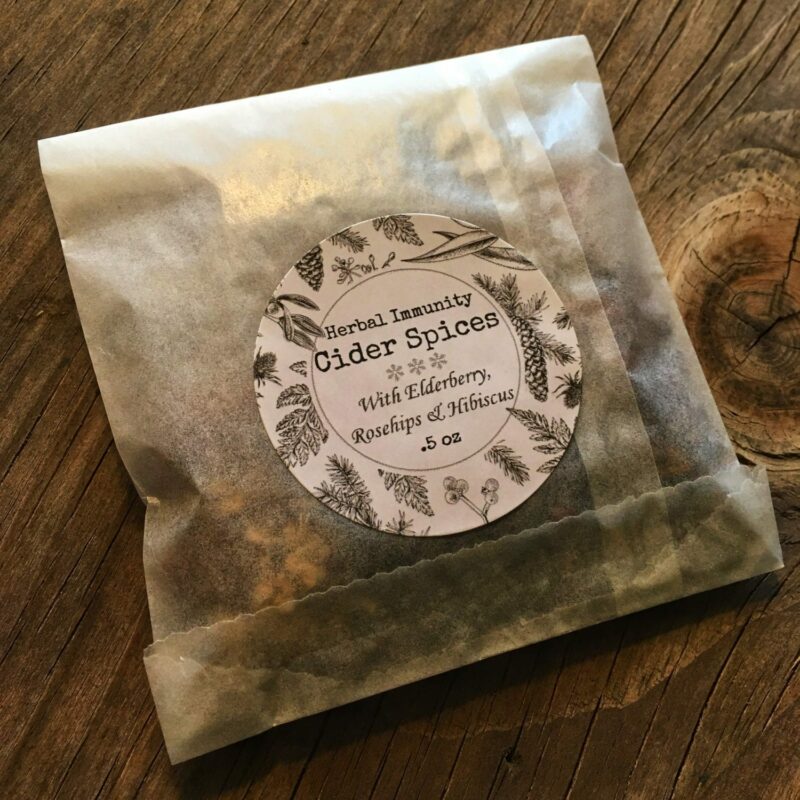 Immunity Cider Spices- A most delicious concoction that is festive, delicious and full of vitamin C, anti-oxidants, and the incredible power of Elderberry! There are Rosehips and Hibiscus as well, which are both common additions to immune supportive remedies for their many health benefits. Simply simmer in apple juice to make your own apple cider (although it tastes pretty good made with water as well). Cinnamon, Ginger & Cloves are warming, soothing, and provide a purifying action that is invigorating. Kids love it too!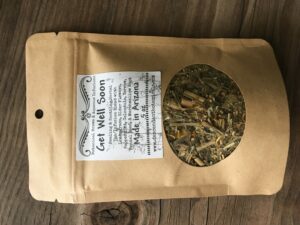 Get Well Soon- This blend features Elder Flower, Fennel, Marshmallow, Peppermint, & Lemongrass and is so soothing  for so many  irritated or inflamed conditions. Great for dry coughs, sore throats, and upset bellies. Great after overindulging in foods or if you ate something that did not agree with you, or for long term digestive healing. Powerful immune supportive herbs such as calendula and yarrow help to keep pathogens in check. This is a great all around feel better tea that tastes great hot or cold.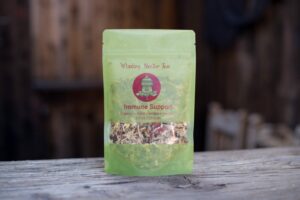 Immune Support Tea- This blend is great to simmer on the stove to fully extract more of the active compounds that support the immune system. It features Elderberries and Goji Berries and their slight sweetness along with Cinnamon and Cardamom makes this blend a customer favorite, because the flavor is so delicious. The warming spiciness makes it a great winter time tea and many people like to drink it throughout cold and flu season or when they aren't feeling well.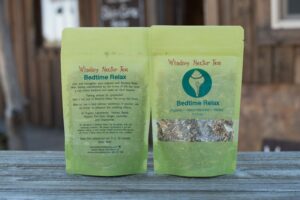 Bedtime Relax Tea- This one is great for soothing the nervous system when overwhelmed or not feeling well. It calms a sore throat and the mind. Lavender and Chamomile help to promote deep rest and soothe nervous agitation that can come along with being sick or stressed out. Ginger, Slippery Elm, & Yarrow may be helpful to soothe a cough, and help the body to rid itself of illness.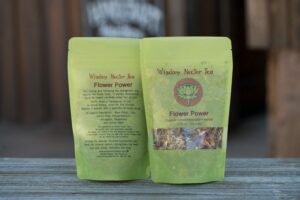 Flower Power- This is a great one for ongoing immune support. Astragalus, Lemon Balm, & Lemon peel all provide immune system benefits and even Rose Petals are known to have anti-septic qualities. Gentle and balancing, with a slightly bitter flavor that benefits digestion & absorption. Tulsi, or Holy Basil, is known to have adaptogenic qualities which can benefit overall health and vibrancy.
These products are not intended to treat, diagnose, or prescribe. All information is for educational purposes and has not been approved by the FDA. If you have ANY health concern, including pregnancy, speak with your healthcare provider before trying any holistic therapy or remedy.